The importance of search engine traffic cannot be overstated. Whether you're writing for enjoyment or profit, you'll eventually burn out if your website doesn't get enough visitors. But there's a catch. The majority of bloggers struggle to improve their Google rankings. Do you know why? They have no idea where to begin.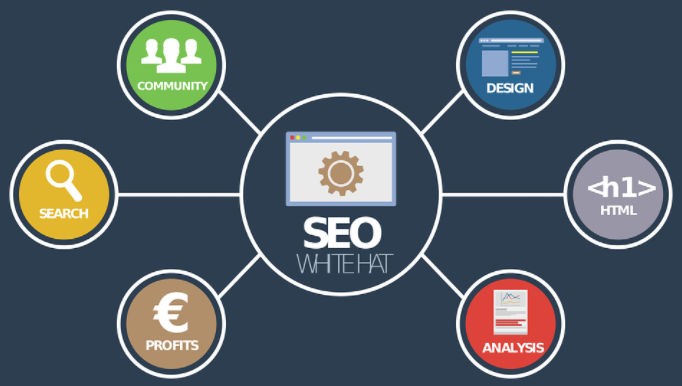 That's why we are always emphasizing the importance of sharing the most acceptable SEO tactics to assist you in creating a good site that generates both traffic and revenue. We have some good news for you if you want to increase search traffic to your website. This post will teach you how to use a fantastic method known as white hat SEO to improve your rankings.
But, before that, let' find out what White Hat SEO is.
What Is White Hat SEO?
Using tactics that target a human audience rather than manipulating a search engine algorithm is known as a White Hat SEO technique. Any excellent SEO campaign will emphasize White Hat SEO, valuable content, and link building as the heart of SEO strategies.
White Hat SEO is often regarded as a long-term investment in a business, and while early ranks may take much longer to improve, the search engine effects are long-lasting. Any SEO strategy that benefits the site visitor in some way is likely to yield more significant results. There are some techniques used in White Hat SEO, such as;
Focusing on keyword search
Keyword analysis
Writing an accurate meta description
Getting backlinks from credible sites
Writing valuable content for link building
What Are Some White Hat SEO Techniques To Improve Your Blog's Rank In 2021?
The SEO industry is booming, and if you want to leverage its advantage, you need to imply some white hat SEO techniques to improve your blog's rank. You may now know which methods will ensure you the best positive result, so we are here to help you. Let's have a look;
1: Write Long Content For Better Results
Start creating long-form content with over 2000 words if you want to improve your search engine rankings. There are several methods for creating link-worthy long-form content for your viewers. Everyone wants their website to have the best content possible. It's crucial to understand what it takes to make such flawless material for this.
Search engines are always on the lookout for fresh content. As a result, the more material you publish daily, the more likely Google will detect it. Always keep in mind that the substance of your content is what draws readers in. As a result, create relevant and helpful material, but make sure it's long and packed with information.
2: Use Infographics To Attract Natural Backlinks
In social media, visual content gets a lot more attention than plain word content. Therefore, backlinks are pretty significant in the world of SEO. It is extremely tough to notice business progress without having high-quality backlinks to your site. Start making infographics if you want to earn relevant backlinks.
Learn how to build infographics that go viral. It is relatively simple to make popular infographics. Just choose a subject and gather all of the knowledge you can on it using free SEO tools. Now, go to Canva and choose an attractive design for your infographic. After you've created a stunning design and included statistical data, it's time to promote your infographic on social media.
Read Also: Tech Mag News, Plus Lifestyles, World Tech24, Exclusive Rights, Voice of Action, lower My Legal Fees
3: Cast Your Focus On Broken Link Building
Broken link building means locating broken outbound links on web pages that lead to content similar to your blog post. Therefore, you must identify the broken links and replace them with your article's link. It not only assists you in obtaining backlinks, but it also assists the site owner in having their website repaired. It takes time, but it is well worth the effort.
Once you've found suitable sites, copy and paste all of the page-specific URLs into a spreadsheet. Now that you have a record of all URLs, it's time to see if any of them are broken. You can use WP Link Status Pro in this context. It is one of the best WordPress plugins to find a broken link. Now, acquire the site owner's contact information and write them a message.
4: Steal Your Competitor's Backlinks
For each of your competitors, you can set up a backlink alert. You'll get notified if they're cited anyplace on the internet. Then, using free SEO tools like Ahref or SEMRush, check individual links to see what site they are linked to. Find the most popular content on their site, improve it, and then promote it. It is one of the most effective methods for obtaining backlinks.
Simply input your competitor's URL in "site explorer" when you're prepared to advertise your content. Then, click on "referring domains" to see their backlinks. Apart from getting authority backlinks, you'll also get some topic ideas, which will enable you to create innovative campaigns. In addition, it will aid in the growth of your blog's web traffic.
5: Rewrite Your Existing Content
Your page credibility can be improved if you rewrite your blog post into several guest posts and pitch them. Before publishing any guest article, make sure it's optimized for the proper keywords. This results in increased awareness on industry-authority sites as well as generating high-quality backlinks.
You can make a slide show out of your content, as some users would rather watch slideshows than read a static blog. You can turn your blog content into ebooks or create infographics from them. Take any current blog post and synthesize it in no more than 800 words. Make a new title for it and publish it. Rewriting your content material increases the number of people who see your post and improves your rank on SERP.
Conclusion
You may not know it, but White Hat SEO is also called ethical SEO. If you use these techniques, it means that it will ensure long-term traffic to your site that will increase your blog's ranking. The SEO industry is constantly evolving, but these are the few techniques that will always remain helpful for your business. So, apply them now, and see the change.
Author bio:
Sofia kelly is a passionate blogger. She loves to share her thoughts, ideas and experiences with the world through blogging. Sofia kelly is associated with Simply Law Zone, Circle Box Blog, Istana Green World & World News Inn. World Health Life, News Stoner, Techrab, News Profy.