Don't make your ripe bananas go into waste. You can turn it into a delicious, moist and yummy loaf of banana bread. This easy banana bread recipe will guide you on how to bake a luscious banana bread that makes a perfect gift.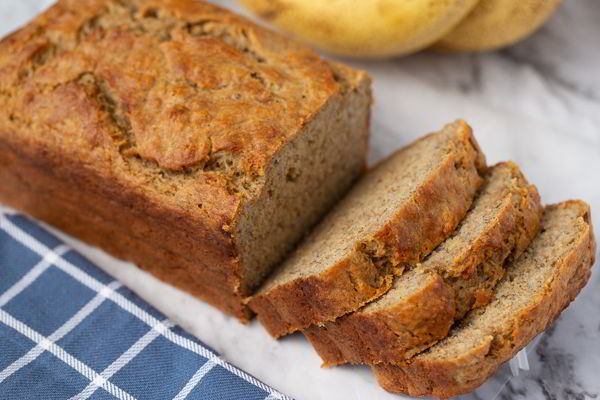 Banana Bread
Ingredients:
1 egg
1/2 cup MIRACLE WHIP Dressing
1-1/3 cups mashed fully ripe bananas (about 3)
1-1/2 cups flour
1 cup sugar
1/2 cup chopped Walnuts
1 tsp. baking soda
1 tsp. salt
Procedure:
1. HEAT oven to 350ºF.
2. BEAT egg, dressing and bananas in large bowl with whisk until well blended. Mix remaining ingredients in separate bowl. Add to banana mixture; stir just until moistened.
3. POUR into greased 9×5-inch loaf pan.
4. BAKE 1 hour or until toothpick inserted in center comes out clean. Cool in pan 10 min.; remove from pan to wire rack. Cool completely.
Banana Bread Tips
1. Overripe bananas are perfect for making your favorite banana bread and fruit smoothies.
2. Do not over mix the batter because it will make your bread tough or rubbery.
3. Cinnamon and banana is a wonderful flavor combination. For a change of pace, sprinkle 1 Tbsp. cinnamon sugar over the banana bread batter in pan before baking as directed.
4. To enhance the flavor you can add ½ to 1 cup chocolate chips, raisins, dried cranberries, chopped Nuts into the batter before baking as directed.
Source: kraftrecipes.com