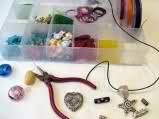 If you ever asked yourself "couldn't I do that myself?" while you looked through rows of bead bracelets, necklaces or earrings at a trendy boutique, the answer is "yes". Bead jewelry making is a creative and entertaining hobby that not only will have you produce unique, handmade items of jewelry, but will also be a great business and a source of gift ideas for family and friends.
Have you noticed lately how popular beads are at the moment? Everywhere you look there are shops and stalls selling beads with do it yourself kits. These beads are beautiful and you can make all different kinds of jewelry like earrings, bracelets and necklaces just to mention a few ideas. You can even make your very own unique beaded handbag if you wish. These also have become very popular with the fashion conscious.
Bead jewelry making is an activity that can be done by anyone, even if they haven't been particularly trained to do bead work. In other words, there is no level of skill forced upon you in order to complete an incredible decorative necklace or pair of earrings made out of beads. The number one advantage of creating your own jewelry or ornaments is the fact that they can be 100% original.
There are different bead-making techniques, such as looping, stringing, brooch-making, and knotting. For this project, the stringing technique will be used. It requires wire or string to hold the beads together.
To Make Dangling Bead Earrings you will need:
* 20 cm gauge no. 5 cable wire
* 16 pcs spacers from O-ring chain
* 2 pcs bead stoppers
* 2 pcs fish hooks
* 4 pcs blue glass bead
* 4 pcs yellow citrine
* 4 pcs pearl stone
* 10 inches chains
* 8 pcs coral beads
* 8 pcs of Class A rainbow crystals
* 2 pcs teardrops or elongated bead
Spacers are any of the minute accessories used in-between beads to provide aesthetic spaces between them. They come in different forms, with metallic and ring spacers as the most common ones.
PROCEDURE:
Step 1. Using a pair of 2-in-1 pliers, cut two 10-cm length of gauge no. 5 cable wire. Set aside one of the cut wires. With the other, create a loop and put the teardrop bead stone in the middle of the loop. Always remember that in bead making, the most stunning stone should always be placed in the middle of the loop.
After placing the teardrop bead stone in the center of the looped wire, insert spacers on both sides of the teardrop bead stone. Insert yellow citrines and a spacer next to the teardrop stone and spacers already in place.
Step 2. To create dangles for the earrings, cut two sets of 2 inch-long and 3 inch-long chains. Set aside one set. Insert one end of a 2-inch chain onto one end of the looped wire, then insert the other end of the chain to the other wire end. Add the blue glass beads and another spacer to both sides of the beads, then string the 3 inch-long chain like the first one.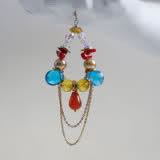 Step 3. String in the pearl, two corals, a spacer, and two Class A rainbow crystals onto both sides of the wire. Then, insert a teardrop bead or rainbow crystal onto both sides.
Step 4. Insert both ends of the wire into the two openings of either the bead or the crystal.
Step 5. Now, insert both ends of the cable wire into the stopper. Then insert right end of the cable wire back to the stopper to create a small loop. Crimp the stopper using the long-nose pliers. Make sure that the beads are tightly secured. Cut the excess cable wire, then attach the hook to the looped wire.
Follow the same procedure to create the second earring that will complete a pair.
To Make bead necklace you will need:
* 2 inches chains
* 1 pc ruby stone
* 8 pcs spacers from O-ring chain
* 2 pcs rhinestone
* 2 pcs yellow citrine
* 12 pcs red coral beads
* 2 pcs metal spacers
* 2 pcs pearl stone
* 12 pcs Class A elongated rainbow crystals
* 12 pcs Class A round crystals
* 2 pcs metallic bead
* 4 pcs teardrop or elongated bead stone
* 3 pcs pre-made teardrop Class A stone
* 1 pair toggle locks
Step 1. Get a gauge no. 5 cable wire. Cut it to fit the size of your neck, but make sure to add an inch to the total length. Put the ruby stone in the middle of the wire, then add the O-ring spacers on both sides of the stone. Cut a 2-inch long chain and string to add dangles to your necklace. Clinch three blue glass beads to the chain, forming an inverted triangle.
Step 2. String the following in this order: rhinestones, metal spacers, yellow citrines, two red coral beads, metallic bead, pearls stones, two O-ring spacers, and three red coral beads. To fill the remaining wire, you may alternately add Class A elongated rainbow crystals and Class A round crystals.
Step 3. Lock your necklace using the toggle locks. Make sure that the beads are locked tightly. Cut the excess cable wire.
Style Tips for Bead Jewelry
1. When making bead accessories, it is important to always come up with sets consisting of both earrings and necklace.
2. Make your bead jewelry as unique as possible.
3. Learn the art of combining complementary colors for your bead stones.
4. If you are targeting Class A and B customers, use more sophisticated stones.
5. For student customers, use neon-colored beads and plastic beads.
Marketing Bead Jewelry
1. Put up an online site to promote your finished product. Include pictures and the prices of the items.
2. The give your jewelry strong customer appeal, you must know the latest trends in fashion and personal accessories. This will give you a clear idea of the materials, tools, and techniques for making the kinds of bead jewelry your prospective market needs.
3. Women from different market segments have different bead jewelry needs. Devise different marketing strategies for them accordingly.
Where to Shop:
Treasure a Bead
Ms. Precious Felizardo- Barroso
tel: 0928-226-5049; 943-0845
email: treasureabead@gmail.com
Website: http://treasureabead.multiply.com/
Where to train/ Workshops:
BUSINESS FUNDYNAMICS
MOBILE:09173425000
TEL. (02) 717-3014 to 15
Em Mariano
Custom Art Jewelry Designer
em.mariano@craftpinoy.com
Website: http://artbyemmariano.multiply.com
Where to look for supplies:
SIMPLY BEADIFUL
Website: http://simplybeadiful.multiply.com
Contact No: 0927-988-1718
E-mail Address: simplybeadiful.28@gmail.com
WELLMANSON SEWING NOTION INC.
22 Villalobos St., Quiapo Manila
Telephones: (02) 733-6270; (02) 734-4475
Fax: (02) 733-6269
All of the raw materials for making dangling earrings and necklaces can be bought at Divisoria, Manila, and at the Wellmanson Sewing Notion store in Quiapo, Manila.
Sources:
1. Escobin, C. "How to Make Bead Accessories". http://www.entrepreneur.com.ph/starterkit/article/how-to-make-bead-accessories/page/1
2. Bruce, P. "Making Your Own Bead Jewelry". http://www.streetdirectory.com/travel_guide/154833/jewelry/making_your_own_bead_jewelry.html
3. Mag, A. "Things you need for Bead Jewelry Making". http://www.streetdirectory.com/travel_guide/62088/jewelry/things_you_need_for_bead_jewelry_making.html.
Photo:At Maculangan.
Do you like this Money Making Business Ideas? then please consider subscribing to our RSS feed and have new articles sent directly to your inbox.